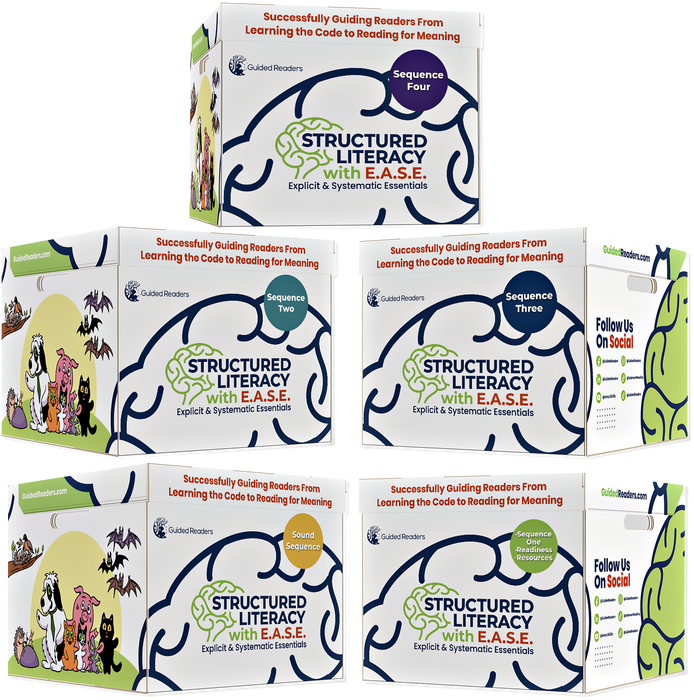 Complete Kit | Structured Literacy with E.A.S.E
Structured Literacy with E.A.S.E is a research-based program that was created based on both the Science of Reading and the Simple View of Reading. It addresses all the strands of Scarborough's Reading Rope.
This program will help teachers in many ways. First, teachers will be able to confidently implement practices that align with the research behind how the brain learns to read. Additionally, teachers will learn to support children so they can learn the English code with less effort and stress. Finally, the program provides an easy-to-follow roadmap so teachers can help each child in the classroom learn to read.
Included in Box 1: Sound Sequence.
Sound Sequence - 
26 Teacher's Guides
78 High-Frequency Word Building Reusable Tracing Mats (13 HFWs – 6 Mats per word)
156 Focus Skill Reading Practice Reusable Mats (26 two-sided mats - 6 copies of each mat)
Included in Box 2: Readiness Sequence Sequence One & Supplemental Resources
Readiness Sequence -
1 Teacher's Guide (perforated)
High-Frequency Word Reusable Forming Mats (6)
Sequence One - 
14 Teacher's Guides
14 Lesson Resource Booklets
78 Decodable Books aligned to each phonics skill & lesson. (13 Decodables - 6 copies each)
Supplemental Resources - 
1 Teacher License for Digital Access to Program
358 High Frequency Word Deck with Phoneme-Grapheme Mapping
170 Card Sound Deck
798 Intro-Graphics (133 intro-graphics - 6 copies each)
70 Sound Wall Posters
Version 1: 26 Alphabetic Letters
Version 2: 44 English Sounds
Map-Its Reusable Mats (6)
Make-Its Reusable Mats (6)
Spell-the-Sound Mats (6)
Say-the-Sound Mats (6)
High-Frequency Word Forming Mats (6)
Decoding Posters
Decoding Fans (6)
Syllable Types Posters
Syllable Reusable Mats (7)
Syllable Fans (6)
Sturdy Storage Box for each Sequence
Clear zippered pouches for ease of use, storage, and longevity of resources
Included in Box 3: Sequence Two
28 Teacher's Guides
27 Lesson Resource Booklets
162 Decodable Books directly aligned to each phonics skill & lesson. (27 Decodables - 6 copies of each book)
Included in Box 4: Sequence Three
29 Teacher's Guides
27 Lesson Resource Booklets
162 Decodable Books aligned to each phonics skill & lesson. (27 Decodables - 6 copies each) 
Included in Box 5: Sequence Four
36 Teacher's Guides
33 Lesson Resource Booklets
198 Decodable Books aligned to each phonics skill & lesson. (33 Decodables - 6 copies each) 
ISBN:979-8-88741-336-5
Product Number: K1234-CKit