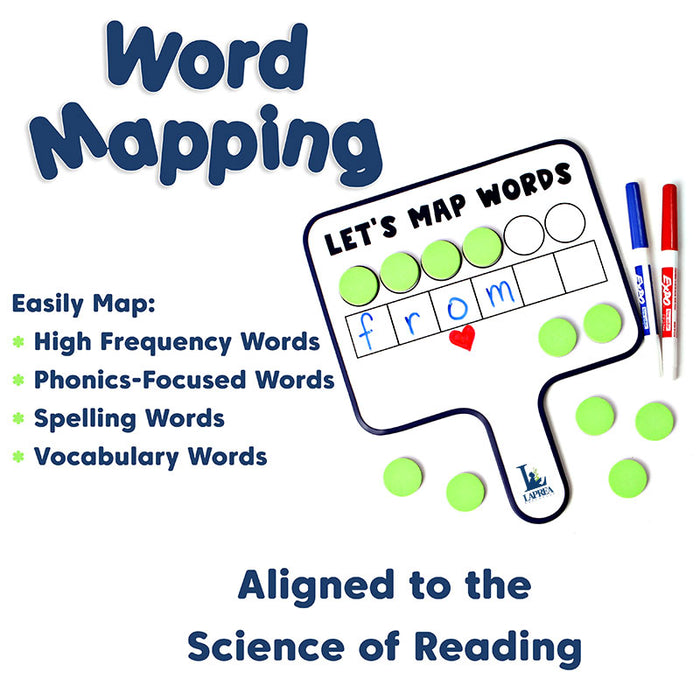 [BUNDLE] Word Mapping - Map-Its Paddles (SET OF 5 Kits)
Word Mapping - Map-Its Paddles (SET OF 5) *1 set has 6 paddles
Are you ready to implement Word Mapping or Phoneme Grapheme Mapping into your structured literacy instruction to align your practices to the Science of Reading? If so, our Map-Its Paddles are just what you need to accomplish this task!  

This kit contains 6 Map-Its Paddles and 36 magnetic foam discs to use with your students to help them learn word mapping skills.  These Map-Its Paddles are double-sided magnetic whiteboards that you can use to map words during your phonics and phonemic awareness lessons. 

One side of the Map-Its Paddles contains a "work mat" for students to manipulate the foam discs based on the phonemes in words. Students can also use dry erase markers to write the graphemes in the boxes that match the phonemes in the words they are mapping.  

The other side of the Map-Its Paddle is a blank magnetic whiteboard that you can use with magnetic letters and dry erase markers to conduct word chain activities that focus on phoneme manipulation, phoneme deletion, and phoneme substitution skills.

The Map-Its Paddles are extremely versatile to utilize in your classroom for a variety of phonics and phonemic awareness activities. 

Additionally, if you purchase a CLASS SET of our Map-Its Paddles, this will allow you to practice Word Mapping of High Frequency Words with your entire class at one time. This is a great activity to build your students' orthographic lexicons.
PRODUCT NUMBER: PADDLE5sets

If you would like to WATCH A VIDEO demonstrating this instructional strategy, please CLICK/COPY this link to watch a demonstration video on Phoneme Grapheme Mapping.